Art & History in the Kennebunks
Announcements:
As a Museum that serves every generation, please wear your mask inside the galleries to help protect our children and unvaccinated community members. Please review our Welcome Home page for more information.
Between May 11 and May 29, first floor galleries will be undergoing exhibition installation. Your visit may be impacted.
Expecting an email from us? Please check your spam filter! Staff typically responds within a day – but currently many of our emails are hitting spam folders. Please call (207)985-4802 if you haven't heard from us.
The latest from the Museum Blog
There is now a robot at the Brick Store Museum! After a crowdfunding effort to bring a telepresence robot to the Museum, the new technology will soon be ready for […]
This Portal offers special access to resources for Members who choose to support the work of the Brick Store Museum. Thank you for your incredible help in expanding education of […]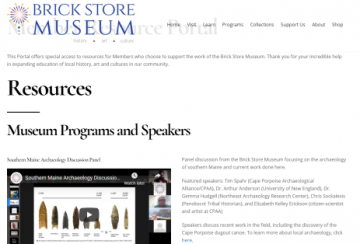 Museum members support the year-round work of the Museum. Members are essential in helping us on our journey to present new exhibitions and scholarship, sustain our historical buildings, enhance educational programming […]
Thanks to Our Partners




Proud Museum Business Members